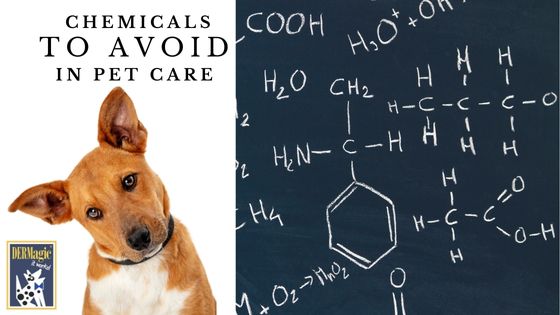 It's hard to know what's in a product these days. DERMagic, as always, is committed to your pet and not only when it comes to our products. 
Greenwashing is a term used to describe a false, misleading or untrue action or set of claims made by an organization about the positive impact that a company, product or service has on the environment. We've talked about greenwashing before, and you can read more about that here.
This is an ongoing issue in the human and pet care industry, and we often see companies claim to be safe when really they're products are filled with dangerous chemicals.
That's why we want to tell you about some chemicals we avoid and why we avoid them. Here are a few of the more common ones...
1. Nitro Musks
What They Are
Synthetic nitro musks are chemical compounds used to fragrance personal and pet care products. You're most likely to find them in shampoos, conditioners, lotions, colognes, perfumes and other high-fragrance items.
Since soaps and shampoos are "wash-off" products, you may feel like they are not much of a threat. However, these compounds are lipophilic (meaning they are soluble in fats) and often hydrophilic (meaning soluble in water). This all means they are absorbed easily by the skin, which is then easily transported to the bloodstream.
Why It Matters
Nitro musks have been found in breast milk and adipose (fatty) tissues, where they are often stored for a very long time.
Not only do they stick around in the body and cause problems, they are released into the environment through sewage treatment plants and sent out into the world.
Potential Human/Animal Problems
Since nitro musks are relatively new, we don't know a lot about them. We do know that there is limited evidence to suggest that they can impact hormone levels and has been associated with an increased risk of tumor formation in mice. The evidence suggests that while nitro musks by themselves are not genotoxic, they may increase the genotoxicity of other chemicals.
Animal models for nitro musk exposure have proven to be problematic since certain outcomes are species specific. This may explain why evidence for developmental effects in animals is conflicting and inconclusive.
2. Phthalates
What They Are
Phthalates are a group of chemicals used to make plastics more durable. They are often called plasticizers. Some phthalates are used to help dissolve other materials. Phthalates are in hundreds of products, such as vinyl flooring, lubricating oils, and personal-care products (soaps, shampoos, hair sprays).
Why It Matters
Phthalates are a series of widely used chemicals that demonstrate to be endocrine disruptors and are detrimental to human health
Potential Human/Animal Problems
Testing has shown that phthalates can damage the liver, kidneys, lungs, and reproductive systems in humans and animals.
3. Parabens
What They Are
Preservatives commonly used in cosmetics, foods, beverages and pharmaceuticals. They are commonly listed under methyl-, ethyl-, propyl-, isopropyl-, butyl-, or isobutyl parabens. 
"In National Health and Nutrition Examinations Surveys, the Centers for Disease Control and Prevention, or CDC, detected propylparaben in greater than 92 percent of Americans tested, and butylparaben in about 50 percent of those tested (Calafat 2010). These results were similar to levels measured in adolescent girls in the 2016 HERMOSA intervention study (Harley 2016). Following just a three-day intervention, when the girls used products without parabens, propylparaben levels in urine dropped by about 45 percent." (EWG, 2022)
There is also an environmental link to consider. "Parabens have been linked to ecological harm, as low levels of butylparaben can kill coral, according to laboratory tests" (Danaovaro 2008).
Why It Matters:
Common parabens are methylparaben, ethyl paraben, propylparaben, and butylparaben. Often more than one paraben is used in a single product.
Potential Human/Animal Problems:
Not only are they quickly absorbed into the skin, studies suggest that they are endocrine disruptors and can harm fertility and reproductive organs, affect birth outcomes, and increase the risk of cancer.
Parabens are known allergens and may cause skin irritation. In addition, there are links to breast cancer, reproductive problems, and allergies.
Research shows that parabens may cause increased production of the hormone estrogen, decrease testosterone, and interfere with reproductive and brain function. 
4. Sulfates
What They Are:
Sulfates are salts that are formed when sulphuric acid (H2SO4) reacts with another chemical. These salts can be produced from petroleum-based manufacturing or plant sources like coconut and palm oil.
Sulfates can form during the decay of plant and animal matter, but they can also form as byproducts from the textile, mining, steel mill, and tannery industries - and these are the ones we're worried about.
While they are excellent foaming agents (surfactants), they are not without risk.
Why It Matters:
There is an ongoing debate about the use of sulfates due to potential threats to the environment, as well to humans and animals. When they are washed away, they can be toxic for the aquatic species, which can impact our food supply and create environmental damage.
Potential Human/Animal Problems:
Not only can they cause allergic reactions (resulting in dermatitis and edema), but they can cause lung irritation, digestive upset and are considered an endocrine disruptor. Sulfates are known irritants to eyes and skin, and can even prematurely clear off dye from your hair.
5. Synthetic Colors
What They Are:
Synthetic colors and artificial dyes are derived from petroleum or coal tar. We often see them in deeply pigmented cosmetics. The heavier the pigment, the higher the percentages of coal tar.
Why It Matters:
Synthetic colors may increase inflammation, cause skin irritations, cancerous tumor development, acne breakouts and may even be connected to the formation of ADHD (attention deficit hyperactivity disorder).
Citrus Red 2 caused bladder and other tumors in mice and bladder tumors in rats.
Red 3 caused thyroid tumors in rats.
Blue 2 may cause brain and bladder tumors in rats.
Red 40 may cause reticuloendothelial (immune system cells that are spread throughout the liver, spleen, and lymphatic system) tumors in mice. Yellow 6 may cause adrenal and testicular tumors in rats.
Potential Human/Animal Problems:
Studies have linked artificial food dyes to issues like Hyperactivity (including ADHD), behavioral changes (like irritability and depression), skin conditions (like hives) and respiratory conditions (such as asthma).
Tumor growth is also a concern as three of the primary food dyes contain benzene, a known cancer-causing substance.
We hope this helps you to understand why we choose specific ingredients in our product line. Further, we hope you apply this information to your own food and healthcare product choices. 
Sources:
Human exposure to nitro musks and the evaluation of their potential toxicity: an overview Kathryn M Taylor, Marc Weisskopf & James Shine

Environmental Health

volume 13, Article number: 14 (2014) https://ehjournal.biomedcentral.com/articles/10.1186/1476-069X-13-14
https://www.cdc.gov/biomonitoring/Phthalates_FactSheet.html
National Research Council (US) Committee on the Health Risks of Phthalates. Phthalates and Cumulative Risk Assessment: The Tasks Ahead. Washington (DC): National Academies Press (US); 2008. 3, Toxicity Assessment. Available from: https://www.ncbi.nlm.nih.gov/books/NBK215030/ Wang Y, Qian H.
Phthalates and Their Impacts on Human Health. Healthcare (Basel). 2021 May 18;9(5):603. doi: 10.3390/healthcare9050603. PMID: 34069956; PMCID: PMC8157593.
Aker AM, Watkins DJ, Johns LE, Ferguson KK, Soldin OP, Anzalota Del Toro LV, Alshawabkeh AN, Cordero JF, Meeker JD. Phenols and parabens in relation to reproductive and thyroid hormones in pregnant women. Environ Res. 2016 Nov;151:30-37. doi: 10.1016/j.envres.2016.07.002. Epub 2016 Jul 21. PMID: 27448730; PMCID: PMC5071140.
https://www.cdc.gov/biomonitoring/Parabens_FactSheet.html
https://www.ewg.org/the-toxic-twelve-chemicals-and-contaminants-in-cosmetics https://www.100percentpure.com/blogs/feed/5-common-side-effects-of-parabens
"Color Additives Questions and Answers for Consumers." U.S. Food and Drug Administration, FDA, 2018, www.fda.gov/food/food-additives-petitions/color-additives-questions-and-answers-consumers.
Kobylewski, Sarah, and Michael F. Jacobson. Food dyes: A rainbow of risks. Center for Science in the Public Interest, 2010.
Kobylewski, Sarah, and Michael F. Jacobson. "Toxicology of food dyes." International journal of occupational and environmental health 18.3 (2012): 220-246. Okafor, Sunday N., et al. "Assessment of the health implications of synthetic and natural food colorants—A critical review." UK Journal of Pharmaceutical and Biosciences 4.4 (2016): 01-11.
Vojdani, Aristo, and Charlene Vojdani. "Immune reactivity to food coloring." Altern. Ther 21 (2015): 1-100.