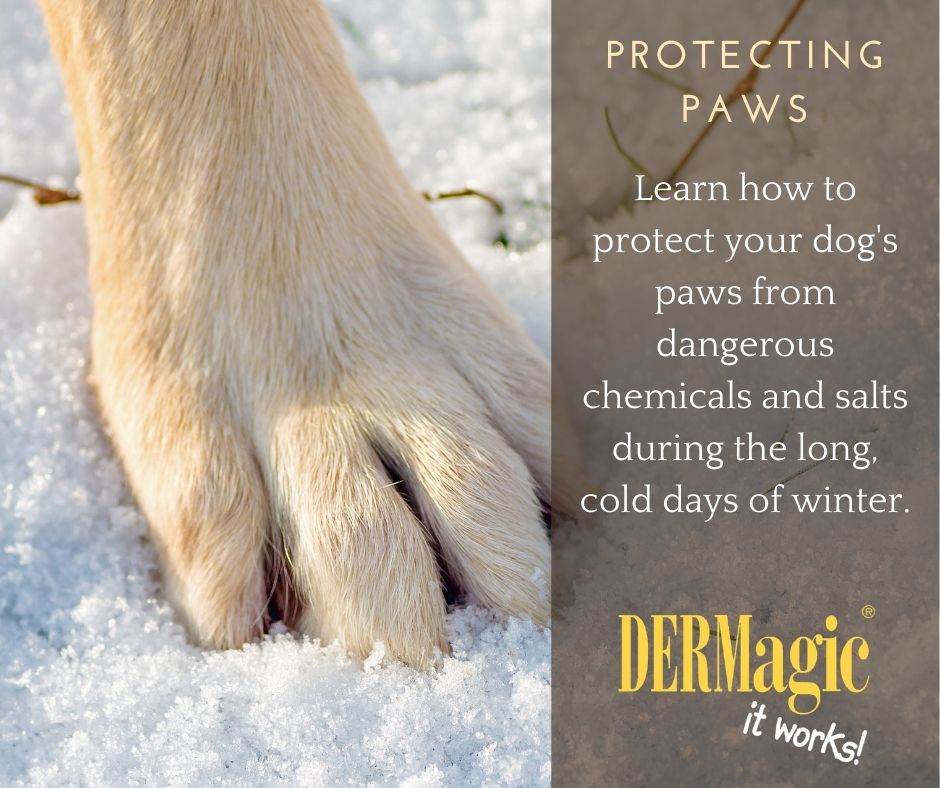 Snow, ice, and salts (or worse, de-icing chemicals) can create a lot of problems for pets. This is especially true if you're treating for Alopecia X, Black Skin Disease or other ailments.
It's important to protect your dog's paws from chemicals. Since dogs often lick their paws, it's very easy for them to digest anything they pick up during walks. Deicing chemicals and salts can create major problems for your pets.
Choosing Ice Removal Chemicals
Choosing a safe deicer is one way of keeping your pet's paws safe. Make sure you:
avoid products with warning labels
avoid salt-based, exothermic products
avoid products that are cheaply mined and refined
Some chemicals are not as harsh as others. 
Calcium Magnesium Acetate (CMA) is less toxic to animals that chlorides, but also more expensive.
Glycols are endothermic deicers with low corrosive properties.
Amides are endothermic chemicals that utilize the sun's energy to break down ice. 
There are a number of different products available that are safer for pets than others. Look for de-icing products like Safe Paw® Ice Melter, Pet Safe® Ice Melter, and Safe-T-Pet® .
Do Your Homework
Always read the ingredients list. If you don't understand a chemical name, look it up.
Manufacturers are required to use official INCI names for their labels, and they can be confusing. For example, the approved INCI listing for Shea butter is: Butyrospermum Parkii.
Knowing the official terms for chemicals (natural and manmade) can help you choose the right de-icer. 
Keep Paws Clean and Dry
One of the more important things you can do to help your pet is make sure their paws are clean and dry.
Try using a simple water bucket to rinse paws before entering the house/ Ultra absorbent shammy towels and mud mats that are designed to trap water can make quick work of drying paws. 
Boots are Made for Walking
You can prevent your dog from picking up chemicals and salts by simply having your dog wear boots.
Choose a pair that is designed specifically for your breed, or your wind up not having boots.
Booties for Thin Legs
Thin-legged dogs whose forelegs are nearly the same size as their pasterns tend to have the most problems with boots slipping off. There are, however, dog booties that are made especially for this type of breed.
Some booties are made from cloth, like these no-slip socks from Woodrow Wear, and others from a rubber-based material that resembles balloons (like these from Pawz). 
Paw Balms
There are several all-natural balms and waxes that can help prevent your dog from absorbing heavy salts and toxic chemicals during walks.

Your dog's paws take a beating in winter. Protect them with boots, balms or booties.