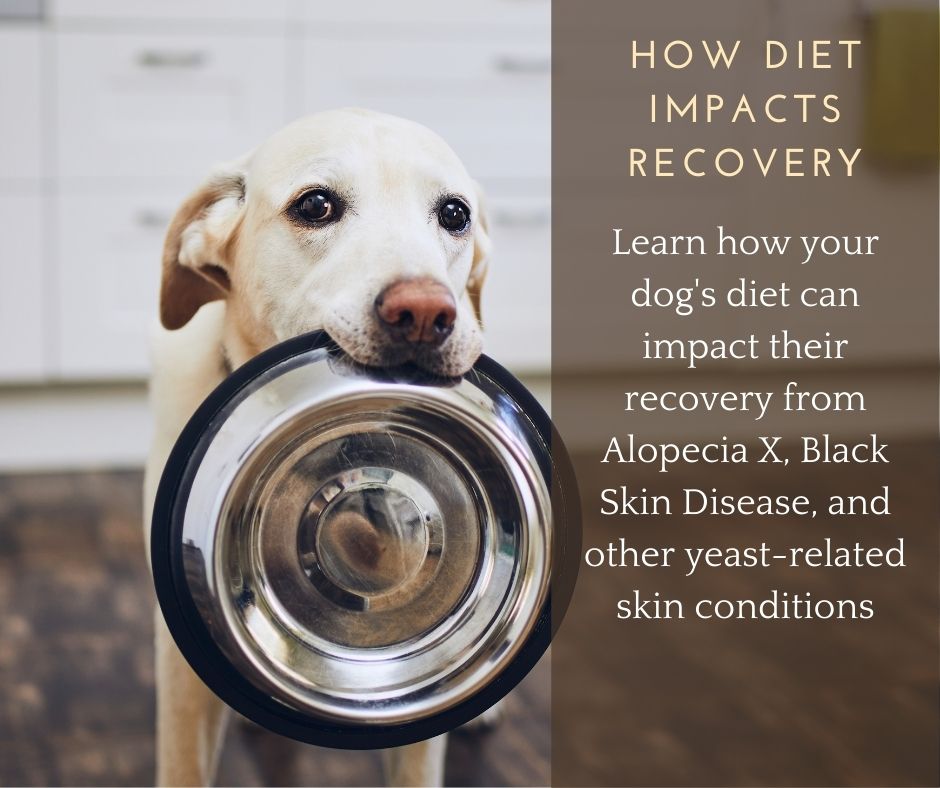 Diet is one of the more important considerations of helping your dog live a healthy life. It's especially important when you're using DERMagic to treat Alopecia X, Black Skin Disease, or any other type of yeast-related issues. 
While we do have a few recommendations, bear in mind that we are not nutritionists or veterinarians. But, we do know that specific ingredients may increase the likelihood of yeast and ultimately work against you when treating your pet for yeast-related conditions. 
A grain-free diet may help your dog recover more quickly and eliminate future occurrences. Please remember to research and talk with others who are successfully feeding this diet. When you are not feeding a commercial food, it's up to you to ensure your pets are receiving all of their dietary needs. Here are a few examples of diets you can research. 
Raw and Modified Raw Diets
We generally recommend a raw or modified raw diet. However, it's important to make the right decision with your veterinarian or canine/feline nutritionist. These diets also require a commitment from you as there are many factors to consider.
PREY Model: This diet is designed to mirror what animals might eat in the wild. The recommended guidelines for PREY diet includes:
50% lean muscle meat (beef, chicken, turkey, etc.)
38% organ meat (includes skin, but this is replaced with more readily available organs)
12% bone and supplements
Learn more at Raw Feeding Advice And Support. 
BARF Model: BARF stands for "Biologically Appropriate Raw Food". The BARF model ratio guidelines are available at their site. 
The recommended guidelines for a BARF diet consists of:
50-70% muscle meat
10-12% raw edible bone
7% vegetables
5% liver
5% other secreting organ
2% seeds or nuts
1% fruit
Learn more about the BARF model of feeding at PerfectlyRawsome. 
Freeze-dried Foods
If you're not prepared to make the jump to a raw diet, that's okay! There are many incredible modified raw diets. These include dehydrated or frozen foods that are free from preservatives, chemicals and are all-natural.
One of our favorites is The Honest Kitchen. This food is rehydrated with warm water and is balanced for your dogs. Another option is Primal grain-free raw. We are not endorsing any of these brands, just providing a starting point for you. 
Frozen Foods
There are many frozen pet food options on the market. When you look into them, be sure you monitor the brand closely for recalls. Suggestions include Stella & Chewy and Instinct® Frozen Raw.
Prepared Fresh
Not feeling like making your own or doing a lot of research? There are options here as well! Check out manufacturers like The Farmer's Dog for fresh, prepared meals delivered to your home each week. 
Grain-Free Dog Foods
Yeast happily feeds on sugars and starches, which are abundant in grains. This is why the number one consideration of any pet food should be avoiding, or at least limiting, fillers. 
Fillers that are specifically problematic for yeasty dogs include corn, gluten, starch, sugars, or wheat. This is not to say they should be completely avoided - In fact, plant-based protein actually helps complete the amino acids that your dog needs to be healthy.
However, not all plants are alike. Some dogs do better with corn than wheat, or soy rather than corn. The goal is to find an edible, wholesome, nutritious type of grain that will aid digestion and complete the important chain that keeps your dog healthy. 
No matter what brand of pet food you give your dogs, make sure it's free from corn and other dangerous fillers.
As you know if you use DERMagic products, we are also very strict on using organic ingredients in our product line. The same premise should hold true with your pet's food. Organic simply assures that the item was grown without pesticides or dangerous chemicals. 
No Food is Perfect
There is no perfect pet food for dogs, just as there is no perfect food for humans. Ultimately, we have to make decisions based on nutritional science and our pet's individual preferences, body type, breed and response.
For some, this may mean they require a processed food due to a medical issue (such as diabetes, urinary crystals, or other problem). Some owners may not have a lifestyle that allows them to handle a raw food diet well. Some can't afford to feed a modified raw or freeze dried diet. 
The moral of this story is this:
Feed your pets the best biologically-appropriate food that you can afford and supplement anything else they may be missing. 
You know your pets better than anyone - and ultimately, you choose what they eat. Make good decisions and your dog's recovery from Alopecia X or Black Skin Disease will be quick and your chance of relapse will be very small.