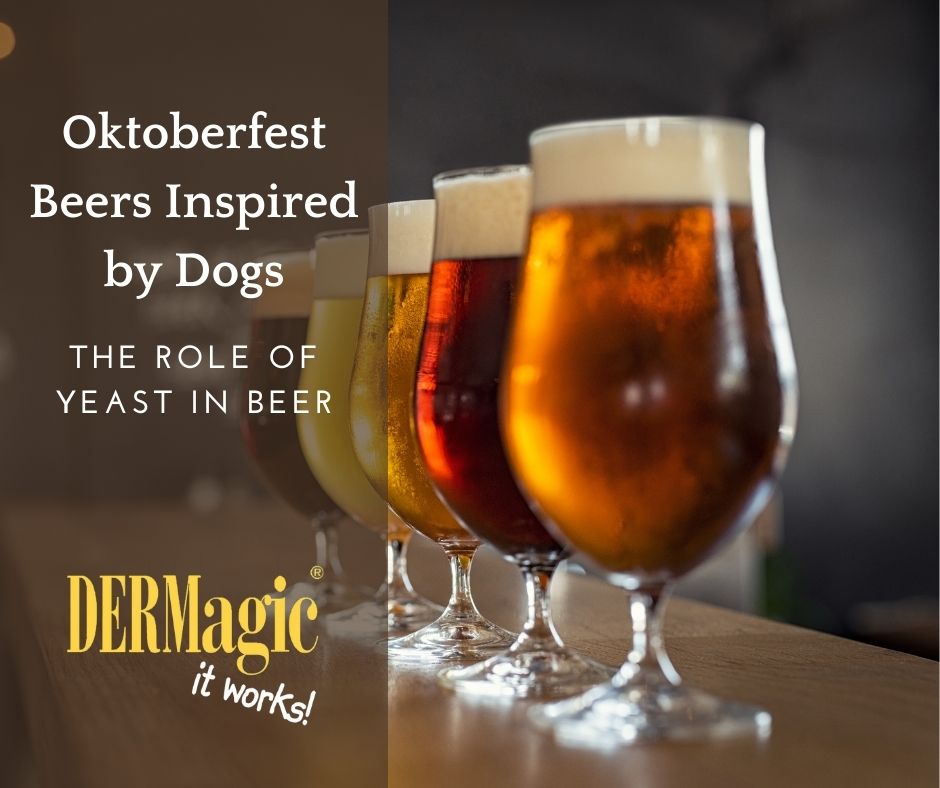 October is upon us and everyone knows that's the official start of Oktoberfest, which we dog lovers often refer to as DOGtoberfest. In honor of beer celebrations around the world, we are talking about a different type of yeast from the yeast in dogs that we're normally discussing...
Saccharomyces cerevisiae. That's the Latin name for ale yeast and it is a key ingredient in brewing beer.
All yeasts eat sugars. In fact, yeast's primary job is to eat sugars, which is one reason why your pet's skin may be in hyperdrive. It's also why diet is so important to recovery.
But, some yeasts expel carbon dioxide and alcohol (like the yeast, Saccharomyces cerevisiae) and these are favored for brewing beer, ale, lagers, and even some wines.
Today, we're telling you about a few top-selling beers that have been inspired, named after or designed by dog-loving people and their favorite dogs.
Boulder, Colorado
Ellie's Brown Ale can be found in Boulder, CO at the Avery Brewery. The beer was developed by brewmaster Adam Avery and inspired by his chocolate Labrador retriever - who is featured on the label.
Proceeds from sales of this beer benefit the Humane Society of Boulder Valley.
Las Vegas, NV
Big Dog Beers are based in Las Vegas, NV and each of them are named after dogs. Their canine-inspired names include, "Leglifter Light, Black Lab Stout, Tailwagger Wheat, and Dirty Dog IPA". They also feature the Sled Dog Imperial Stout, Triple Dog Dare Belgian-style Tripel, Dog Tangerine Wit, and more.
Their War Dog Imperial IPA "Unleashed" is dedicated to military dogs. A big salute to this group!
San Pedro, CA
Brouwerij West is located in San Pedro, CA and features a 17,000 sq ft outdoor beer garden, along with an 8,000 sq ft tasting room. Focused on earth and animals, they've added solar panels on the roof, which generates enough electricity to run several of these massive operations!
Portland, OR
Hair of the Dog Brewing Company has been brewing batches of locally-sourced ingredients since 1993. All of their ingredients are found within 250 miles radius of their Portland, OR brewery.
Tempe, AZ
Their dog-friendly patio and love of all animals has inspired many micro-brews and even hops-treats for dogs! Bring your best four-legged friend to this fun brewery where you can enjoy hops dog treats, canine-inspired IPAs, and more. 
If you're not near one of the breweries above, you can find hundreds of other dog-centric breweries around the world. The breweries below have one thing in common — they are canine-inspired and owned and operated by dog lovers.
3 Dogs Brewing (White Rock, British Columbia)
Alpine Dog Brewing Company (Denver, Colorado)
Bad Dog Brewing Company (Sooke, British Columbia)
Big Dog's Brewing Company (Las Vegas, Nevada)
BrewDog (Ellon, Scotland)
Flying Dog Brewery (Frederick, Maryland)
Hair of the Dog Brewing Company (Portland, Oregon)
Laughing Dog Brewing (Boise, Idaho)
Sheepdog Brewing (Canmore, Alberta)
Sleepy Dog Brewing (Tempe, Arizona)
Stray Dog Brewing Company (Orléans, Ontario)
Yellow Dog Brewing Company (Port Moody, British Columbia)